As a Symfony developer, you may have been asking yourself how to gain reputation or become more professional in your work. If you once thought about passing the Symfony exam, maybe now would be a good time for you to do that.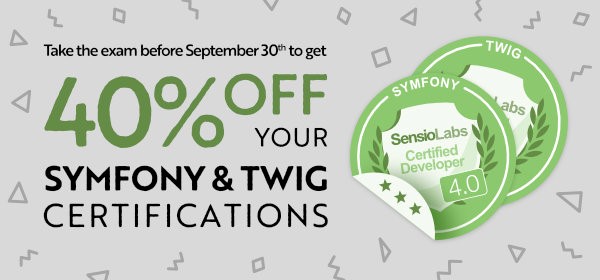 Take certification before September 30th 2018 and get your Symfony certification for 150€ instead of 250€ or your Twig certification for 89€ instead of 149€, VAT excluded.
Use the CERTIF40 coupon to get a 40% discount. This coupon requires to take the exam before the end of September 30th 2018. Vouchers not used before that date won't be refunded or renewed.
Your voucher will be valid until September 30th. If you don't take the exam by that date, it will expire and won't be refunded or updated (you can still acquire a one-year voucher at the regular rate.)
---
ResourcesClick to expand/shrink